No sign of Mongols because of the recent bust.
Emilio and I showed up at the Bike Week:
Love Ride
2008 in Pomona Ca.
What is guy with a kid and no bike doing at bike week?
I only paid $3 bucks to get in, and
Well, I hope to get a bike one day. Still finishing up school.
However, we got there around 1:30pm on this nice Sunday. October 26,2008.
We walked around for a bit.
Then,we seen the last leg of the famous
Foo Fighters
.
Check out the footage from the grandstands when I gave Emilio a break from the sun.
Yeah. The view sucks but its a different perspective.
My boys only 21 months old. While your kids are at home with the baby sitter.
My boy is appreciates music and motorcyles at the Pomona Fairplex.
See if he is not picking up your daughter on his bike when he is 16.
Cheers!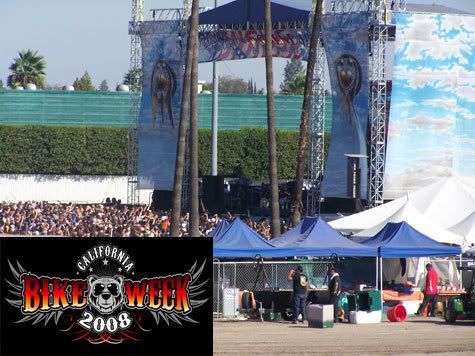 We walked around "The Love Ride" some more around the vendors. We watched the cycle tricks which I thought was awesome. Then we made our way to see
ZZ Top
peform.
This is Emilios first big concert. His first concert was at the Kohoutek Festival at the Claremont Colleges(on youtube). ZZ
Top really opened up his eyes. Thanks Dusty and Billy.
When the show was over. Glendale
Harley Davidson
gave away a brand new Harley Davidson. That was won by a chick. Now her man can sit on the back of her bike.
When everybody was walking out I ran into my X-Coworker "Yara" from Goodfellas Music Venue in Rancho Cucamonga. Now she is the owner of Liams Irish Pub in Colton. She took a picture with me. Now Im waiting for it to post on here.
When the show was over. Emilio and I went to the Computer show got some dvd covers and left the Sheraton parking. When we were at the light on White and Mckinley I ran into Yara again. I took this pic. Cheers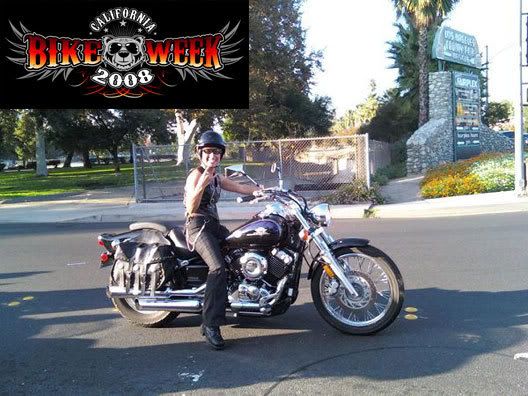 I didnt see any Mongol Vest. I'll be looking for them next year.
Next year I know will be much bigger.
Since its bike week. I was looking for some motocross tricks. Love Ride - Didnt have none?
Sooner or later moto will be part of bike week.
Hope your ready Hyundai Pavillion for some rowdy ass bikers next year.
Hope to be blogging this event next year. Put me on the Guest list to help promote your event: Southerncalideej (at) aol dot com
Gabriel & Emilio Chagolla